Komatsu Hitoshi The Hermit Painter Captivated by Nature

Greetings
Komatsu Hitoshi (1902–1989) was born in Yamagata. He moved to Tokyo in 1920 (Taisho 9) to study painting at Kawabata Painting School. Four years later, his paintings were selected for display at the fourth National Exhibition of the Kokuga Sosaku Kyokai, an art association presided over by Tsuchida Bakusen and other young painters from Kyoto. Thereafter, Komatsu became Bakusen's pupil. Komatsu displayed an interest in monochrome ink paintings from an early age. He developed his own style characterized by powerful ink lines. This imbued his ink paintings with a folksy charm that gave them a unique presence in the contemporary Japanese art scene. His works were selected for several prestigious exhibitions, including the National Exhibition, the Exhibition of the Imperial Fine Arts Academy (Teiten), and the Exhibition of the Japan Art Institute (Inten).
 After the war, Komatsu moved to Ohara in Kyoto, where he continued painting while trying to live self-sufficiently. His secluded life and his idiosyncratic grey-bearded appearance earned him the nickname 'the hermit painter of Ohara.' He received high acclaim for his masterful depictions of places like Ohara, where he lived for the rest of his days, and Mogami, a river that flowed through his birthplace of Yamagata. He also spent a lot of time in the Kanto region and he produced many paintings of Mount Fuji. In 1986 (Showa 61), he was designated a 'Person of Cultural Merit.' He remained creative and continued striving at his craft until 1989 (Heisei 1), when he finally passed away aged 87.
 Held on the 120th anniversary of the artist's birth, this exhibition showcases Umi-Mori Art Museum's Komatsu collection, including Woman From Ohara Village With a Bull, an idealized depiction of Komatsu's beloved Ohara, Mountains in Izu, one of his greatest artistic creations, and over 50 copperplate prints with paintings of flowers and women, for example. We hope the exhibition serves to convey the allure of Komatsu Hitoshi, the hermit painter who grappled with nature and his own artistic inclinations.

The organizers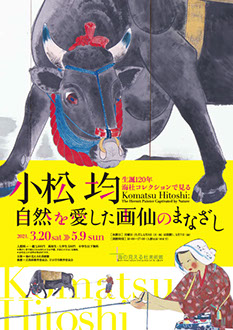 ---
Venue: Umi-Mori Art Museum (10701 Kamegaoka, Ohno, Hatsukaichi, Hiroshima)
With the support of: Hiroshima Board of Education and Hatsukaichi City Board of Education
Dates: Saturday, March 20, 2021 to Sunday, May 9, 2021
Hours: 10:00-17:00 (Last entry: 16:30)
Closed: Monday (However, the museum will be open the Monday of May 3 and), Friday of May 7
Admission:
 General admission: 1,000 yen
 High school/university students: 500 yen
 Junior high school students and younger: Free
 *Admission is half price for people with disability certificates, etc. One accompany person is admitted free of charge.
 *Groups of 20 or over will receive a discount of 200 yen per person.
---
Chapter One
Portraying Life: The Allure of Komatsu's Figure Paintings
Komatsu received high acclaim for the landscapes he painted after turning 60. However, this chapter focuses on the many figure paintings he produced from the start to the prime of his career. When he was around 20, Komatsu became enraptured with Chinese folk tales and these often provided the themes of his paintings. Painted in his mid-30s, Sun and Moon (No. 4) depicts the life of the tyrannical Emperor Yang of Sui. This reveals the young Komatsu's interest in human passions and the vicissitudes of fortune. However, a different side to Komatsu is on display in Woman From Ohara Village With a Bull (No.1) and Landscape of the Four Seasons (No. 2). These both feature the landscapes and people of Ohara, where Komatsu lived for most of his life. They portray human life in a warm idealized light that belies the reality of breakneck modernization.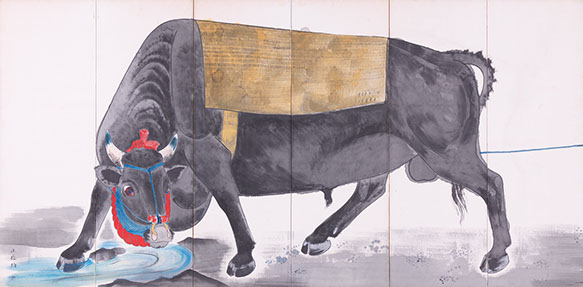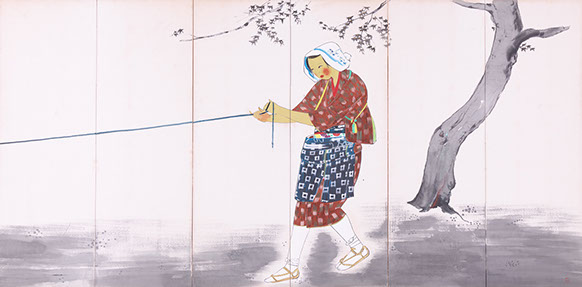 Woman From Ohara Village With a Bull, 1944(Showa 19)

---
Chapter Two
Capturing the Heart of Nature: Komatsu's Quintessential Landscapes
Komatsu is mainly known for the magnificent landscapes he painted after turning 60. These portray Ohara, where Komatsu spent the end of his days, and Mogami, a river that flowed through his birthplace, with grand views of Mount Fuji also featuring prominently. Komatsu strove to capture the essence of nature using powerful ink lines that imbued his ink paintings with a unique, folksy charm. The two landscapes in our collection were painted in 1940 (Showa 15), when Komatsu was 38 and had yet to develop his own unique way of painting landscapes. At that time, Komatsu had begun to experiment with ink landscapes under the influence of exchanges with painters from the Nanga school. As such, these two works were produced during a key turning point in Komatsu's painting career. The two masterpieces are both over 65 centimeters in height and 8 meters in length. While Cape Irozaki presents the monumental seas and promontories of Izu in glorious color, Mountains in Izu uses ink alone to show Izu's cliffs soaring up through the humid air. The two paintings present two different aspects of Izu's striking natural scenery.


---
Chapter Three
The Power of Ink and Lines: Komatsu's Playful Ink Works
The source of Komatsu's artistic vigor undoubtedly lies in his ink lines. The dynamic fusion of ink and lines with Komatsu's vision and passion resonates through his calligraphic works as well as his paintings. These powers on are full display in the title letterings and anecdotes about his works that he wrote to accompany albums of his paintings, for example. Furthermore, Komatsu's father was the chief priest at a Soto school temple and Komatsu retained a deep affinity with Buddhism and other forms of spirituality throughout his life. He drew on this spirituality when painting nature, with this affinity also evident in his wartime depictions of Fudo (Acala). His affection for ink and Buddhist thought is also apparent in Namu (Amen) and other calligraphic endeavors.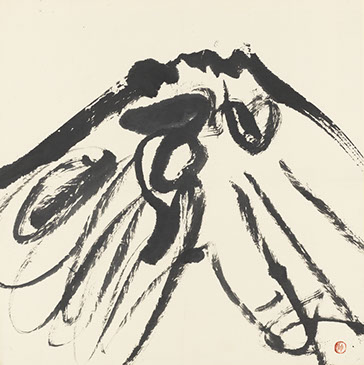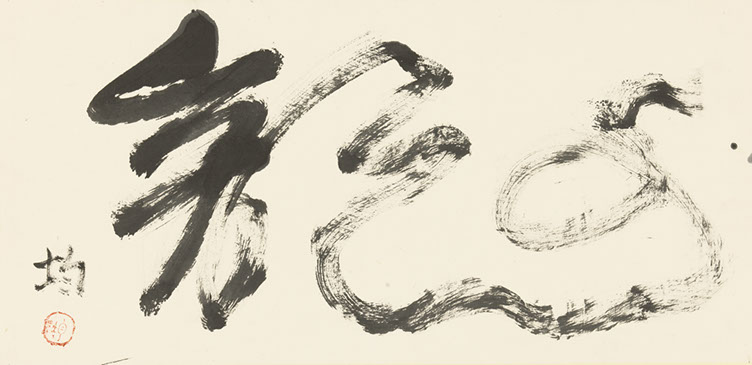 ---
Chapter Four
Ink and Color:The Craft of Komatsu's Copperplate Prints
Chapter Four Ink and Color: The Craft of Komatsu's Copperplate Prints
Around 50 of the 70 or so Komatsu works in our collection are prints. Komatsu devoted himself to the production of copperplate prints in the late 1960s and 1970s. He then presented these to the world at exhibitions in 1976 and 1977. His single-minded pursuit of artistic expression encompassed these works too, as evinced by the way he studied print lines by copying out ukiyo-e prints. His obsession with lines is still apparent in these powerful prints, but the bright pastel colors also create a vivid impression, with Komatsu using crayons and brushes to splash color over the monochrome ink surfaces. The prints also borrow themes from Komatsu's previous masterpieces, including the women and girls of Ohara, Mount Fuji, carp and lotuses.