ITSUKUSHIMA IN ART: An Enchanting Voyage Through a Sacred Land

Greetings
Itsukushima is considered one of the three most scenic places in Japan. Known to many as Miyajima, the island has also been worshipped as a sacred land floating in the sea since olden times. Itsukushima Shrine was founded in the 6th century. The waterfront shrine we see today was built at the end of the Heian period with the patronage and veneration of the military leader Taira no Kiyomori and his clan. The shrine's stunning appearance also attracted international attention and it was registered as a World Cultural Heritage Site in 1996. The island's charms do not stop there. There is also the bustling approach to the shrine, with spectacular views of Mount Misen rising up in the background, for example. Other attractions include the site of an ancient Esoteric Buddhist training center on Mount Misen and seven other shrines dotted around the island. All this has made Itsukushima an extremely popular destination for countless visitors.
The island was just as captivating, if not more so, for people in the past. During the Edo period, Itsukushima was famed as a pilgrimage site and also as an enchanting tourist destination packed with amusements. At the start of the Edo period, in the 17th century, there was boom in the production of folding screens depicting everyday folk enjoying themselves in famous spots like the city of Kyoto, Amanohashidate and Matsushima. A great number also featured Itsukushima, a testimony to the island's popularity. These large screens detail the comings and goings of people on the island. Some are arriving by boat to worship at the shrine, while others have come for more earthly reasons. We see people strolling past the storefronts, climbing up to the summit of Mount Misen, for instance, while others are eating, drinking and dancing by the waterside.
These works featured idealized versions of Itsukushima. In the mid-Edo period, though, painters began depicting the island and its scenery in a more realistic fashion. Woodblock-print guidebooks and maps were also published in volume during this time. These featured pictures and information designed to rouse the curiosity of the general public. This exhibition uses Edo-period paintings of Itsukushima to show how this sacred land attracted the adoration and yearning of so many people back then.
Finally, we would like to offer our deepest gratitude to those who loaned their precious artworks and to everybody who provided invaluable research and illustrations for this exhibition.
After appreciating all these multi-faceted depictions of Itsukushima, we invite you to visit the Umi-Mori Terrace to view the island as it looks today.
The organizers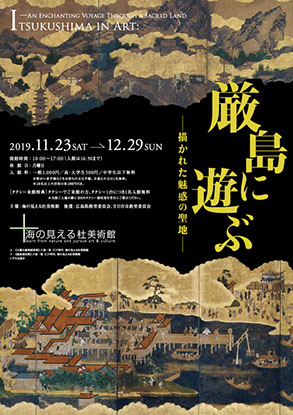 ---
GENERAL INFORMATION
Hours: 10:00-17:00 (Last entry: 16:30)
Closed: Monday
Admission: General admission: 1,000 yen, High school/university students: 500 yen, Junior high school students and younger: Free
*Admission is half price for people with disability certificates, etc. One accompany person is admitted free of charge.
*Groups of 20 or over will receive a discount of 200 yen per person.
Venue: Umi-Mori Art Museum (10701 Kamegaoka, Ohno, Hatsukaichi, Hiroshima)
With the support of: Hiroshima Board of Education and Hatsukaichi City Board of Education
---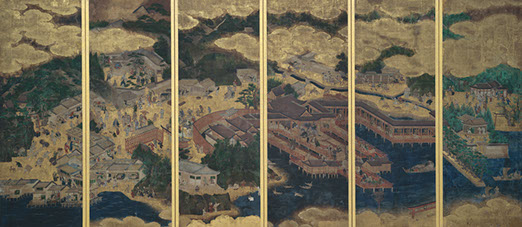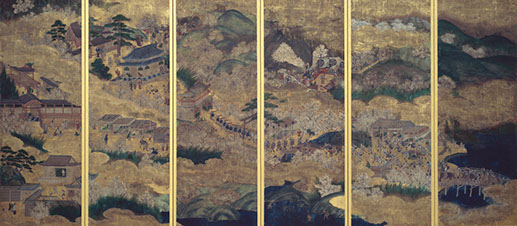 Yoshino and Itsukushima
Pair of six-fold screens Edo period, 17th century Umi-Mori Art Museum


Itsukushima
Pair of six-fold screens Edo period, 18th century Umi-Mori Art Museum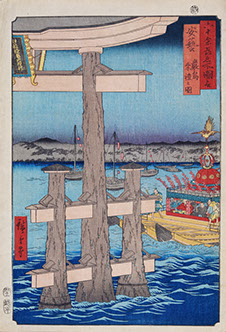 ---
Chapter1 The Floating Utopia –Depictions of Itsukushima in Folding Screen Paintings–
At the start of the Edo period, in the 17th century, there was boom in the production of paintings showing people enjoying themselves in famous spots across Japan. The folding screen paintings here take Itsukushima as their subject. They throng with folk relaxing on the island. Some dine on elevated platforms outside Itsukushima Shrine, for example, while others shop at busy stores or argue furiously. In this way, the paintings portray people having carefree fun at real places like Itsukushima Shrine's torii gate and halls, the Senjokaku Pavilion and the Five-storied Pagoda. In doing so, they reveal how the free-wheeling spirit and customs of the Warring States period still existed at the start of the Edo period. Rather than precisely recording the state of Itsukushima at that time, these depictions meld fact and fiction to portray the island as it was seen by contemporary folk, as an enchanting, sacred utopia.
---
Chapter2 Let's Visit Itsukushima –Tourism and Media–
Travel in Japan was once a pastime limited to people of high rank, including nobles, warriors and priests, but regular folk also began to tour the country entering the Edo period. This tourism led to the production of many maps and guidebooks for these new travelers. Just like we do today, the Edo folk loved to browse these guidebooks and plan their trips. However, many people could not make these excursions, so instead they would collect information and gaze at paintings of places they longed to visit. The idea of Ama-no-hashidate, Itsukushima and Matsushima as the three most scenic places in Japan is also thought to have emerged during this tourist boom.
---
Chapter3 Capturing Itsukushima –The Aims of Realistic Depictions–
Depictions of Itsukushima became more historically accurate and faithful to reality from the mid-Edo period. Artists moved away from imaginary depictions based on set formats, like those seen in the aforementioned folding screen paintings. Instead, they began to consult reliable guides or even travel to Itsukushima to make sketches. Oka Minzan was a painter serving under the Hiroshima clan. His Itsukushima Zukan, painted under order from the clan chief, is a representative example of this new type of painting. However, the portrayal of otherworldly clouds trailing over Mount Misen in the Itsukushima Folding Screen (No. 26) renders Itsukushima with a solemnity fitting for a spiritual land rising up from the sea, with the island's sacred nature still captured using new modes of expression.