Fishwatching: Paintings of our Piscine Friends

【趣 旨】
2021年夏、海の見える杜美術館では、「アート魚ッチング―描かれた水の仲間たち―」と題して、絵に描かれた魚をはじめとする水の中の生き物たちを紹介する展覧会を開催いたします。
魚は昔から私たちの生活と関わりが深く、絵や工芸など美術の世界にも表されてきました。本展は、当館が所蔵する江戸時代から昭和時代までに制作された魚たちの絵を紹介する展覧会です。江戸時代の著名な浮世絵師・歌川広重の《魚づくし》や、「鯉の滝登り」図などのおめでたい絵、竹内栖鳳や池田遙邨など近代の日本画家が手掛けた作品などを展示します。特に、昭和期に活躍し、「魚の画家」として知られた大野麥風の《大日本魚類画集》は、一見版画とは思えないほど細やかに表された作品で、水中に棲む魚たちの姿を生き生きと描き出した傑作です。今回は、《大日本魚類画集》全6輯72枚のうち、当館が所蔵する4輯47枚を一挙に公開します。 人々に身近な存在でありながら、水中という別世界に棲む生物の新しい魅力を、様々な個性を持つ画家たちの視線を通して見つけていただければ幸いです。
また、今回は、夏休み期間にあわせてワークショップの開催やワークシートの配布を行います。この夏は、海の見える杜美術館で、美しく色鮮やかな魚、面白い姿の珍しい魚、画面せましと自由に泳ぎ回る魚など、美術の中で様々に表現された水の仲間たちの姿を、どうぞお楽しみください。
---
Chapter One
Hiroshige's Fish: The Beloved Fish of the Edo Folk
Japan is a land surrounded by the sea and abounding with rivers and streams. A rich variety of seasonal seafood has graced Japanese tables since ancient times, from bonito in spring to sea eels in summer. As a familiar everyday presence, fish often provided the inspiration for comic tanka poems and haikai poetry during the Edo period (1603–1868). Utagawa Hiroshige (1797–1858) and other ukiyo-e artists created pictures to accompany these verses. Amid a growing interest in natural history, painters also began to observe fish up close and depict them in meticulous detail. One example is Hiroshige's 'Every Variety of Fish,' an ukiyo-e series portraying a diverse range of marine life alongside comic tanka poems. Hiroshige uses exquisite engraving and coloring to convey the very feel of fish scales and skin.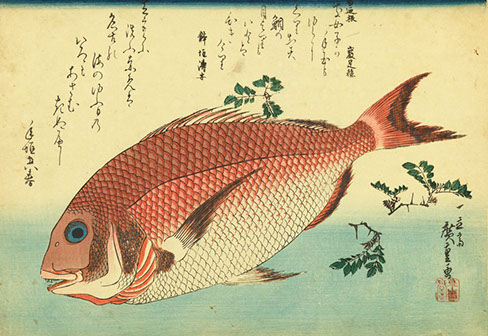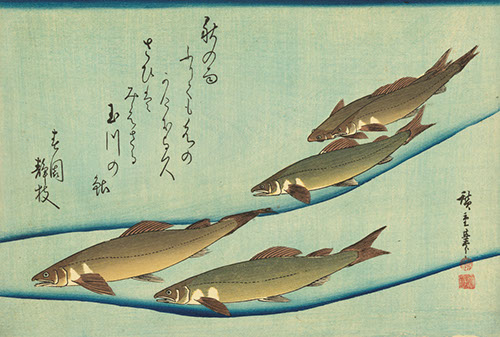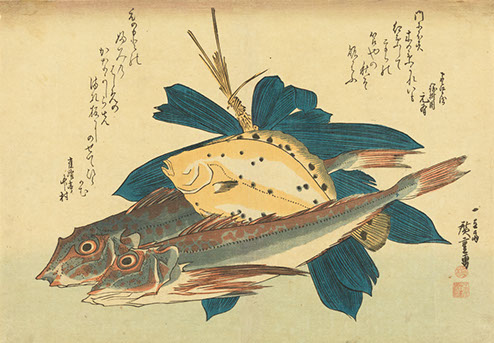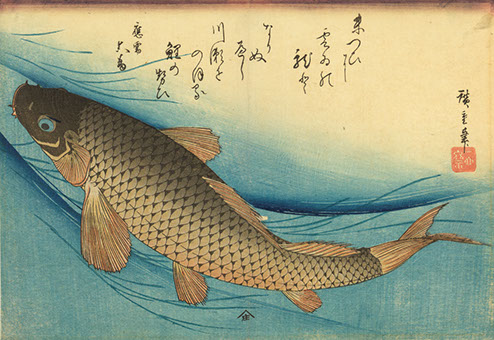 ---
Chapter Two Luck and Love: A Grand Gathering of Auspicious Marine Life!
In China, seafood is an essential part of any festive occasion. This is because the words for 'fish' and 'abundance' are homonyms in Chinese. Fish is served as an auspicious dish that symbolizes a prosperous, bountiful life. Since ancient times, this auspicious significance has seen fish extolled in Chinese poetry or depicted in Chinese paintings and craft works. This auspicious meaning was transmitted to Japan too. This led to a boom in fish paintings, with carp particularly popular because they symbolized success, an association derived from a Chinese legend stating that carp who manage to jump through the Yellow River's Dragon Gate will be transformed into dragons. In Japanese, the words for "happiness" and "sea bream" are also homonyms, as are those for "victory" and "bonito" and those for "good fortune" and "blowfish." In this way, specific auspicious meanings became attached to different fish. This chapter introduces Edo-period carp pictures alongside handbills with auspicious motifs that were distributed over the New Year holidays during the Meiji and Showa eras. Also featured are New Year pictures, still a popular form of decoration in China today.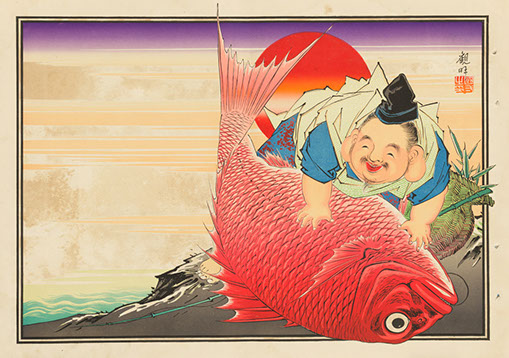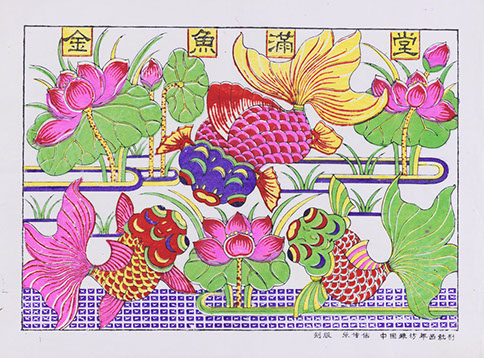 ---
Chapter Three The Diverse Colorful Fish of the Modern Masters
In Japan during the Edo period, paintings were used to decorate spaces and create an atmosphere of celebration and auspiciousness. As the Edo period drew to a close, Western culture began to permeate Japanese society at the dawn of the new Meiji era. Artistic individuality now became an important component of paintings. While inheriting traditional themes, painters now began to infuse paintings with their own unique sense of 'beauty' and 'truth.'
 This chapter focuses on fish pictures from the Meiji era to the start of the Showa era. Takeuchi Seiho strove to infuse his works with a sense of refreshing summer coolness by portraying fish frolicking in flowing rivers, while Murakami Kagaku tried to depict marine life in a meticulously naturalistic manner that conveyed a sense of texture and weight. The diversity of these works reveals the different ways each artist saw fish. Please enjoy this introduction to diverse, idiosyncratic fish of the modern masters.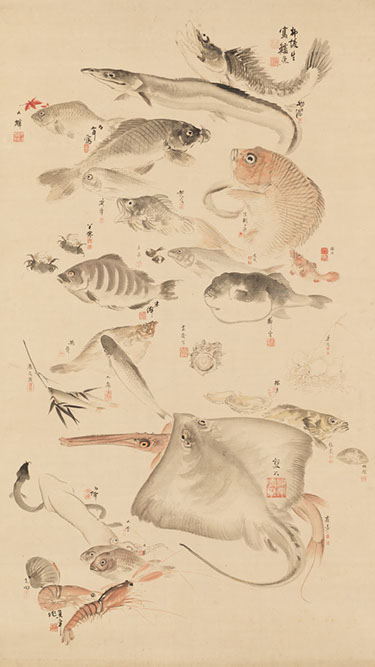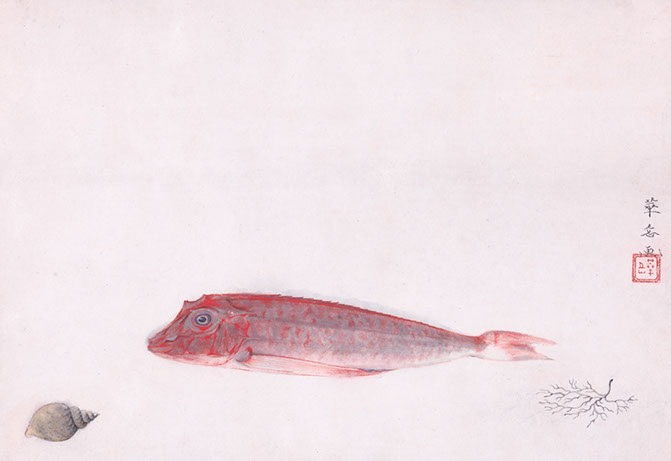 ---
Chapter Four Ono Bakufu and the 'Pictures of Fish in Japan'
pturing the exquisite colors and tones of fish bodies.
 After completing and publishing the album during the dark days of the Second World War, Bakufu became known as the 'fish painter' and he went on to create many works depicting different fish species.
 Over 6 volumes and 72 pages, the 'Great Japanese Fish Picture Album' reveals Bakufu's superlative talents as a painter, engraver and woodblock printer. This chapter showcases our museum's collection of 4 volumes and 47 This chapter introduces Ono Bakufu and his 'Great Japanese Fish Picture Album.'
Five hundred editions of this collection of woodblock prints were released over a seven-year period from 1937 by Nishinomiya Shoin, a publishing house in Hyogo Prefecture. Bakufu was responsible for the album's pictures and he set out to portray fish and their habitats fish in realistic way. To this end, he visited aquariums (still a novelty in 1930s Japan) and even boarded submarines to observe real live fish. By using 200 separate woodblocks to create each print, Bakufu succeeded in capages from the Album. We hope you enjoy this voyage through Bakufu's beautiful watery world.